Stan Freezoid (voiced by Maurice LaMarche) is a villain/lawyer, whose main ability is freezing.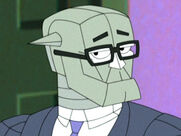 Background
Edit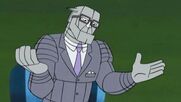 His personality and demeanor as a lawyer is that of a stereotypical ambulance chaser, though Reducto says he is "the best criminal defense guy in the business." His business suit appears to be painted onto his robotic form. Of all the rival lawyers, he is by far the least eccentric and most level-headed. He usually seems rather benign, but he has an explosive temper when ignored, often threatening, "I'll freeze your ass!"
Video Game
Edit
Stan Freezoid appears in two cases - "From to Slammer" and "Two Birds, One Throne". In the former case, he accuses Harvey of not being a real lawyer due to his lack of license which immediately throws Harvey in jail. In the latter case, he was one of three lawyers hired by Harvey to try a case for Sebben and Sebben which turns out to be an embezzling trial against Harvey.
Ad blocker interference detected!
Wikia is a free-to-use site that makes money from advertising. We have a modified experience for viewers using ad blockers

Wikia is not accessible if you've made further modifications. Remove the custom ad blocker rule(s) and the page will load as expected.