Beegle Beagle
is a talking dog that is the associate of
Grape Ape
.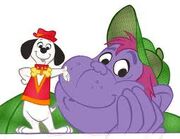 Background
Edit
Beegle is Ape's rhythmic gymnastics trainer and coach for the Laff-a-lympics. In the episode Grape Juiced he has taken up smoking, acquired a smokers cough and carries a bottle of Vodka in his pocket.
In the Original Hanna-Barbera cartoon The Great Grape Ape Show, Beegle drove Ape around on his yellow van. They appeared in segments on The New Tom and Jerry/Grape Ape Show from 75-78 before getting their own series that ran for 16 episodes from 76-77, they also appeared on Scooby's All-Stars from 77-79.
Ad blocker interference detected!
Wikia is a free-to-use site that makes money from advertising. We have a modified experience for viewers using ad blockers

Wikia is not accessible if you've made further modifications. Remove the custom ad blocker rule(s) and the page will load as expected.