Birdman: The Legend of the Bird is an animated web series featuring the adventures of Birdman.
Differences than the cartoon
Edit
Birdman, Falcon 7, Reducto, X and Mentok are aged to teen years.
Birdman's real name is Harvey Manfred.
Falcon 7 has a brother named Cheetah 100, Bill Ken Sebben.
Reducto is an elf.
Mentok is Indian.
X was a bandit who wanted to kill Birdman.
Avenger was named after Birdman's idol, Blue Avenger.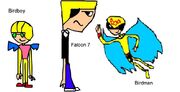 Ad blocker interference detected!
Wikia is a free-to-use site that makes money from advertising. We have a modified experience for viewers using ad blockers

Wikia is not accessible if you've made further modifications. Remove the custom ad blocker rule(s) and the page will load as expected.